The Thousandth Floor, by Katharine McGee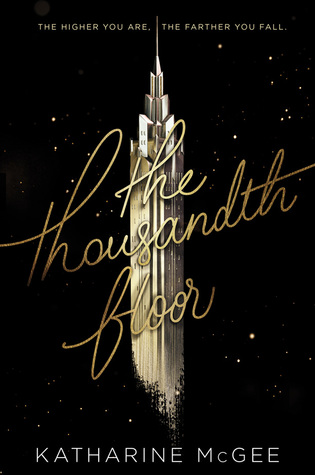 2.5 Stars | ★★☆
Blurb
NEW YORK CITY AS YOU'VE NEVER SEEN IT BEFORE.
A thousand-story tower stretching into the sky. A glittering vision of the future where anything is possible—if you want it enough.
WELCOME TO MANHATTAN, 2118.
A hundred years in the future, New York is a city of innovation and dreams. Everyone there wants something…and everyone has something to lose.
LEDA COLE's flawless exterior belies a secret addiction—to a drug she never should have tried and a boy she never should have touched.
ERIS DODD-RADSON's beautiful, carefree life falls to pieces when a heartbreaking betrayal tears her family apart.
RYLIN MYERS's job on one of the highest floors sweeps her into a world—and a romance—she never imagined…but will this new life cost Rylin her old one?
WATT BAKRADI is a tech genius with a secret: he knows everything about everyone. But when he's hired to spy for an upper-floor girl, he finds himself caught up in a complicated web of lies.
And living above everyone else on the thousandth floor is AVERY FULLER, the girl genetically designed to be perfect. The girl who seems to have it all—yet is tormented by the one thing she can never have.
Amid breathtaking advancement and high-tech luxury, five teenagers struggle to find their place at the top of the world. But when you're this high up, there's nowhere to go but down….
°☆.。.:*・°.:*・☆°☆.。.:*・°.:*・☆°☆.。.:*・°.:*・☆°☆.。.:*・°.:*・☆°☆.。.:*・°.:*・☆
Review
Dear Readers,
For these past few months, I've been in a terrible book slump (so I haven't been posting any book reviews, sorry!). Even though I didn't like The Thousandth Floor that much, it was- ironically- the book that has pulled me half-way out of that slump.
There were two things about this book that initially drew me in: the writing, and the concept of a thousand floor tower. McGee's writing style was perfect for this book and it was engaging. There was some descriptive language that enabled me to appreciate the setting, but the descriptions were not too over-abundant that they detracted from the quality of the tension.
The floor-to-ceiling windows were squares of velvety darkness, though in the distance the sun was quietly rising, the skyline turning ocher and pale pink and a soft, shimmering gold.
Apart from the use of "quietly", I think this might be my favourite line in the entire novel.
As mentioned above, I loved the thousand tower concept which established the futuristic, technologically advanced era this novel was set in. Although the individual technological machines were not that inventive (e.g. retina scanners- which I'd seen in a lot of sci-fi books), I liked the way McGee incorporated them into the tower. For example, the upper floors people had retina scanners, but the lower floors people didn't, which was a nice contrast that made this tower interesting: the financial disparity present in one thousand floor tower is on par with that of a country.
However, there were somethings I really did not like. This book was written in five perspectives. Five. FIVE people. This was so distracting, especially as each perspective pretty much had its own story line. On top of that, I seriously did not feel engaged with three of the perspectives: Watt, Rylin, and Eris. Not even the writing could help me become invested in their story. The two other perspectives that were a little more engaging are Leda's and Avery's, but I disliked both of them a lot. I feel like Avery is supposed to be the "heroine" (this is a misnomer, really; are they all supposed to be anti-heroes or something?) in this story but I never warmed up to her. I even thought Leda (who is an off-her-bonkers stalker) was a far more interesting character (I don't approve of her stalking, but it makes her character interesting) because Avery's internal angst about love for her step-brother (which btw was totally awkward) was so annoying. I'd say that this is more of a character driven book since it was all about the tension between the characters that came about due to their personal secrets, so my lack of interest in the characters was quite problematic.
In the end, it was only the "who pushed the girl off the tower and why" mystery that kept me reading.
That being said, if you're a fan of Pretty Little Liars, you should try this book out! It was not for me, but you may love it!
Cheers,
Kellie xo
°☆.。.:*・°.:*・☆°☆.。.:*・°.:*・☆°☆.。.:*・°.:*・☆°☆.。.:*・°.:*・☆°☆.。.:*・°.:*・☆
Published on: 30th August 2016
Published by: HarperCollins
°☆.。.:*・°.:*・☆°☆.。.:*・°.:*・☆°☆.。.:*・°.:*・☆°☆.。.:*・°.:*・☆