I Hunt Killers, by Barry Lyga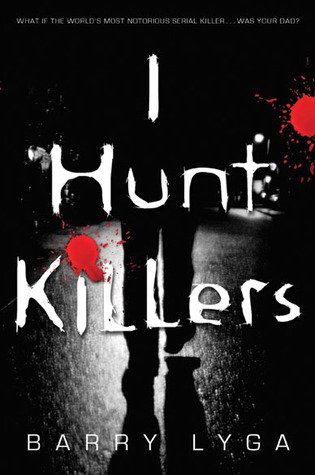 4.5 Stars
Blurb
What if the world's worst serial killer…was your dad?
Jasper "Jazz" Dent is a likable teenager. A charmer, one might say.
But he's also the son of the world's most infamous serial killer, and for Dear Old Dad, Take Your Son to Work Day was year-round. Jazz has witnessed crime scenes the way cops wish they could—from the criminal's point of view.
And now bodies are piling up in Lobo's Nod.
In an effort to clear his name, Jazz joins the police in a hunt for a new serial killer. But Jazz has a secret—could he be more like his father than anyone knows?
Publishing Company: Little, Brown and Company
Published on: 3rd of April 2012
Pages: 359 (Hardcover)
Series: Jasper Dent #1
Get it on…
People matter. People are real.
Wow, this book was a thriller! I hunt Killers is a consistently suspenseful and engaging book that had me engrossed until the very end.
What I absolutely loved about this book was how it provided an in-depth look into the mind of a serial killer. Although the main character, Jasper, isn't actually a serial killer, he can certainly think like one. This allowed me to sort-of understand the psyche of a serial killer. Barry Lyga's ability to illustrate the mind of Billy Dent (a serial killers in the novel who is also Jazz's father) through a character who isn't a serial killer (although I think Jazz is a little sociopathic) is definitely impressive.
His mouth was twisted in a wry grin, his eyes wide and alight with what some people- none of them in this room- might mistake for an impish glee.
In a lot of books, the psychopath or sociopath is presented wonderfully, but you never actually see inside their mind or look at things from their perspective. One thing I definitely understand after finishing this book, is that serial killers are really, really possessive over their victims (or prospects).
I hunt Killers also had a great cast of characters. Of course, since we see these characters from Jazz's perspective who can spot a lot of telltales we'd usually miss. Hence, our understanding of the characters in this book deepens to a considerable degree.
The characters also complement each other very well. Connie's fiery personality was refreshing and it enhanced (whilst also being enhanced by) other characters such as Howie, a loyal sidekick who can't get into the thick of the fighting because of his low blood clotting factor. This means that the relationships between the characters were also quite interesting.
One thing I didn't really like Jazz's constant pity for himself. It was tolerable the first few times since Jazz's worry about becoming his father is understandable, but it eventually got on my nerves. Also, it was really clear to me all along that Jazz's primary suspects weren't the culprits. The identity of the impressionist did surprise me though. The plot of this book was great, but not spectacular.
But aRGH that cliff-hanger at the end. I seriously can't wait to find out what's next!