The Winner's Kiss, by Marie Rutkoski
4 Stars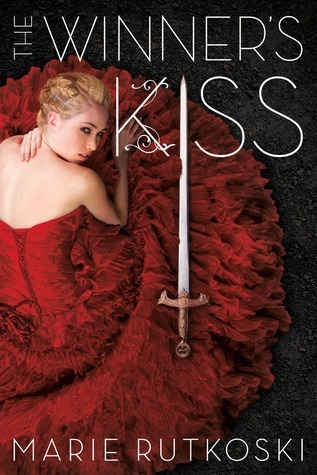 Blurb
War has begun. Arin is in the thick of it with untrustworthy new allies and the empire as his enemy. Though he has convinced himself that he no longer loves Kestrel, Arin hasn't forgotten her, or how she became exactly the kind of person he has always despised. She cared more for the empire than she did for the lives of innocent people—and certainly more than she did for him.
At least, that's what he thinks.
In the frozen north, Kestrel is a prisoner in a brutal work camp. As she searches desperately for a way to escape, she wishes Arin could know what she sacrificed for him. She wishes she could make the empire pay for what they've done to her.
But no one gets what they want just by wishing.
As the war intensifies, both Kestrel and Arin discover that the world is changing. The East is pitted against the West, and they are caught in between. With so much to lose, can anybody really win?
Pages: 496 (Hardcover)
Publishing Company: Farrar, Straus and Giroux
Published on: 29th March, 2016
Series: The Winner's Trilogy #3
Find it on…
Goodreads / Amazon / Barnes & Noble
The Winner's Kiss is a spectacular ending to this series. I didn't really enjoy The Winner's Crime that much but this book was a big step up. Unsurprisingly, this book still managed to captivate me in the way that had me reading late into the night.
One of the issues I had with the last book was Kestrel's mediocre military strategy. To be honest, I wasn't particularly really impressed by her plots in this book, but I was able to see Kestrel's mind in action and that was really cool. I was not impressed by Arin's war strategy either. The reason for my lack of admiration for these strategies is because they are mostly based on what they know about the General as a person. This also makes the General's character seem foolish as their plans succeed 95% of the time. Unrealistic. I expect a person with the General's reputation for intelligence to be able to realise why he's losing and make some less predictable moves. Sure, this is a flaw of his character, but this flaw is unrealistically debilitating.
The romance in this book was a great asset to the story. Rutkoski develops this romance in an very believable way that is really touching. It makes the characters so much more human because yet another aspect of their character is revealed: the softer, the more romantic side. Arin and Kestrel are one of my favourite OTPs. ❤
The shadow of her old self curled into the shadow of him.
It's not just the romance that was touching. The friendship and the relationships between characters in general were pretty realistic. Kestrel's relationship with her father was brutally honest.
There is also a tinge of awesome humour in this story, especially regarding Arin the tiger. It lightened the otherwise sombre atmosphere and made the read extra enjoyable.
"You thought there were Valorians in the woods. You weren't frightened then."

"Not exactly."

"Then what are you afraid of?"

"Spiders," he said gravely.

She elbowed him.
Rutkoski is also a skilful writer and her writing kept me immersed in the story the entire way. This was a truly fantastic novel- a feast for the mind. I really recommend you check it out of you like YA fantasy!!