Ready Player One, by Ernest Cline
4.5 Stars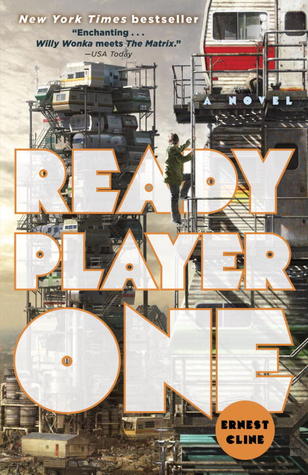 Blurb
It's the year 2044, and the real world is an ugly place.
Like most of humanity, Wade Watts escapes his grim surroundings by spending his waking hours jacked into the OASIS, a sprawling virtual utopia that lets you be anything you want to be, a place where you can live and play and fall in love on any of ten thousand planets.
And like most of humanity, Wade dreams of being the one to discover the ultimate lottery ticket that lies concealed within this virtual world. For somewhere inside this giant networked playground, OASIS creator James Halliday has hidden a series of fiendish puzzles that will yield massive fortune — and remarkable power — to whoever can unlock them.
For years, millions have struggled fruitlessly to attain this prize, knowing only that Halliday's riddles are based in the pop culture he loved — that of the late twentieth century. And for years, millions have found in this quest another means of escape, retreating into happy, obsessive study of Halliday's icons. Like many of his contemporaries, Wade is as comfortable debating the finer points of John Hughes's oeuvre, playing Pac-Man, or reciting Devo lyrics as he is scrounging power to run his OASIS rig.
And then Wade stumbles upon the first puzzle.
Suddenly the whole world is watching, and thousands of competitors join the hunt — among them certain powerful players who are willing to commit very real murder to beat Wade to this prize. Now the only way for Wade to survive and preserve everything he knows is to win. But to do so, he may have to leave behind his oh-so-perfect virtual existence and face up to life — and love — in the real world he's always been so desperate to escape.
A world at stake.
A quest for the ultimate prize.
Are you ready?
Publishing Company: Broadway Books
Published on: 5th of June, 2012
Pages: 372 (Paperback)
Find it on…
Amazon / GR / Barnes & Noble
"That was when I realized, as terrifying and painful as reality can be, it's also the only place where you can find true happiness. Because reality is real."
Ready Player One was a wonderful whirlwind of an adventure. In fact, this book pretty much had all the elements of a typical tournament-adventure-science-fiction novel so it is a little cliché in that sense, but that doesn't mean I didn't enjoy this. If you're looking for something that breaks away from the general formula however, Ready Player One may not be the book you're looking for.
The characters in the story were definitely pretty cool. Every main character in this story is different from each other, and these differences can be seen through their language. What's so interesting about this particular cast of characters, is their interactions with each other. In real life, how people act changes depending on who they're interacting with, and inReady Player One, this is really clearly reflected which makes the characters much more realistic than a lot of characters from other books in the same genre.
Even though the characters themselves were quite realistic, I found that some parts of the relationships were unrealistic, specifically the easy transition of their relationships from the simulation world to reality. In the novel, Art3mis actually talks about how a person's true personality is not always reflected in the simulation of themselves in Oasis. I think that this surely applies to relationships as well. A good relationship in a virtual simulation does not automatically mean that the relationship will be good in real life. On the other hand, the main characters do stay true to their personality in the simulation, so I can understand their ease around each other in real life, but there is still a suspicious lack of awkwardness.


Identity was also an integral part of this story. I was partly surprised by the true identity of some of the characters. I had guessed some aspects of their identity, but the other aspects were cleverly veiled so that I didn't question whether those aspects were true.
Also there were a lot of 80's culture references. I don't know much about the 80's so I didn't understand most of the references, but there were info dumps which I liked as it helped me to understand the culture more. The only reference I unquestionably understood was Ultraman. Surprisingly.
There were also some deeper concepts in this story I liked. For example, Ready Player One really takes the "don't judge a person by their physical appearance" to a whole new level since everyone's avatar can look different from themselves. I really liked the characters' lack of judgement when it came to physical appearances. They paid more attention to a person's personality, which is part of the reason why I liked this cast of characters so much. Another concept was escapism versus facing reality. The world in which the main characters live in is not a very nice world, so people tend to log on to Oasis for escapism. Halliday sort of addresses this issue at the end of the book. Both are pretty interesting concepts that can't be immediately answered.
Overall, Ready Player One was an enjoyable read, and I recommend this to passionate fans of the 80's or readers who are looking for a thrill. 🙂
Thank you to my friend Lilian for recommending this book to me!