Truthwitch, by Susan Dennard
3 stars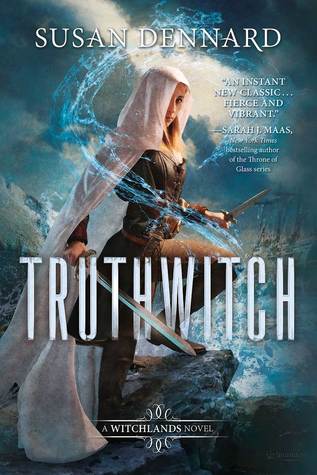 Blurb
In a continent on the edge of war, two witches hold its fate in their hands.
Young witches Safiya and Iseult have a habit of finding trouble. After clashing with a powerful Guildmaster and his ruthless Bloodwitch bodyguard, the friends are forced to flee their home.
Safi must avoid capture at all costs as she's a rare Truthwitch, able to discern truth from lies. Many would kill for her magic, so Safi must keep it hidden – lest she be used in the struggle between empires. And Iseult's true powers are hidden even from herself.
In a chance encounter at Court, Safi meets Prince Merik and makes him a reluctant ally. However, his help may not slow down the Bloodwitch now hot on the girls' heels. All Safi and Iseult want is their freedom, but danger lies ahead. With war coming, treaties breaking and a magical contagion sweeping the land, the friends will have to fight emperors and mercenaries alike. For some will stop at nothing to get their hands on a Truthwitch.
Publisher: Tor Teen
Published on: 01/05/2015 (January 5th)
Series: The Witchlands #1
Pages: 416 (Hardcover)
Truthwitch was undeniably engaging.
Dennard's interesting world drew me into the story. Admittedly, the start of the little book was a little confusing, as there were terms that were thrown around. For example, "thread" might seem like an ordinary word about… well… thread, but in this world, there is an added meaning which I didn't know at first (hence, confusion). Even though I did like the world, I think that this universe could have been explored in more depth. There is a hint of culture (with the threadwitch uniforms in the Nomatsi tribes and everything). They all speak the same language though, which is sad (I really love reading about languages in books).
In fact, Dennard's concept of witches is very intriguing. Both boys and girls are called witches, which means that there is no gender discrimination which I liked a lot. There are different classes or types of witches, an obvious one being truthwitch, and I found Dennard's division of classes to be unoriginal but nonetheless interesting.
Dennard's writing was also very likable. In a chapter, Dennard communicates Merik's (a character in the book) disgust when he looks at the Doms and Domnas (essentially the lords and ladies) of Cartorra. The way she wrote this scene really made me feel really disgusted with the Doms and Domnas which I find pretty impressive.
The power of a truthwitch is always explicitly repeated. However, this was never implied by the story. I never truly felt how powerful a truthwitch can be. In fact, Safi gets tricked at the beginning, which doesn't exactly help to establish the force of a truthwitch. Safi eventually realises the limitations of her power but I won't spoil the book! I actually didn't really like Safi at the beginning, but her growing understanding of the world made me like her.
I liked Iseult from the very start, and the relationship between Iseult and her "threadsister" Safi, was a great relationship. I could definitely tell that they wouldn't hesitate to sacrifice themselves to save the other threadsister. This thread family was much better than the other thread family I saw in the book between Prince Merik (of another country) and a guy in his crew (they're threadbrothers). Compared to the threadsister relationship, this threadbrother relationship was underdeveloped and not as strong.
Also Merik is annoyingly angry a lot of the time. Seriously.
I feel like some of the characters are a little inconsistent. Let's take the example of Evrane, a monk of Cahr Awen. My original impression of her was a meek person who bows easily to authority. Then, later in the story, Evrane suddenly drawls. What?!?!?! She drawls?!?!? Drawl is an action that is associated with confidence and swag, which are two things that don't correlate with my original impression of Evrane. Normally, I'd think ok, and then modify my impression, but she loses this confidence and swag immediately afterwards.
Two characters I did like a lot were Habim and Matthew. They were cool. On another note, none of the leaders/potential leaders in this story would actually be good leaders with the (hesitant) exception of Prince Leopold and maybe Empress Vaness. There has been no evidence of good leadership from Leopold's father. Prince Merik cares a lot about his people, but he's too hot headed (/*SPOILER*/ he stormed out of a dinner where he could have made advantageous political connections…). Don't even get me started on Merik's sister, Viva…
I didn't really like the romance either. There wasn't enough build up, and it made the romance a little unrealistic.
As for the plot: There was needless fighting which wouldn't have been needed if the girls were smart enough to stop taking of their freaking salamander fibre garments.
BUT Truthwitch has real potential so I'm definitely going to check out the sequel!