The Girl at Midnight, by Melissa Grey
3.5 Stars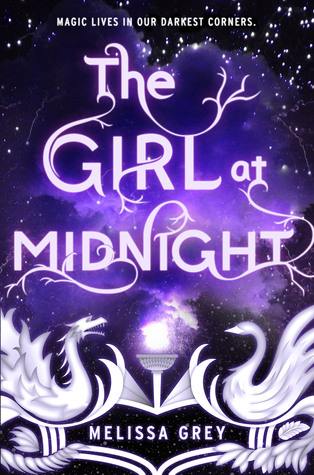 ---
Run, Echo, the voice in her mind whispered.
And rise
The Girl at Midnight was a fantastic take on the legend of the firebird. The incorporation of the firebird was interestingly done, and I really liked the concept of the Drakharin and the Avicen. However, I do wish that there was more background information on how the Drakharin and the Avicen came to be, or on the two species in general. What is the Drakharin society like? I also like the concept of the "in-between", but how was the "in-between" formed? Or did it exist all along?
Though the book was a bit slow at the start, it quickly picked up the pace near the middle, and the story became much more intense.
What I found a disappointing about this book was how the book was a little clichéd. I figured at where/who the firebird was very early on in the story. That kind of dampened my excitement, and it was also why I didn't give this book four stars.
I thought Echo was a great character. She is fiercely loyal to her best friend Ivy. She also has some conversations with different characters in the book (e.g. Caius). Dorian is also pretty funny.
"Ah, Tanith," Dorian sighed. "Please, observe my sincere laughter."
Silence.
"Cute," said Tanith. "Too bad my brother doesn't see it."

And Tanith is seriously good at throwing shade!!
Romance was an aspect I don't think was that well developed. Unlike many YA books, Echo already has a boyfriend, which I liked. However, I didn't like how Echo warmed up to another person she felt an attraction to when she hadn't even broken up with her boyfriend. I did like the new love relationship that blossomed between an Avicen and a Drakharin. I won't mention who they are, because spoilers! 🙂
I think there will be a sequel, because the author ended the book on a somewhat open ending. I do recommend this!
---
Blurb
Beneath the streets of New York City live the Avicen, an ancient race of people with feathers for hair and magic running through their veins. Age-old enchantments keep them hidden from humans. All but one. Echo is a runaway pickpocket who survives by selling stolen treasures on the black market, and the Avicen are the only family she's ever known.
Echo is clever and daring, and at times she can be brash, but above all else she's fiercely loyal. So when a centuries-old war crests on the borders of her home, she decides it's time to act.
Legend has it that there is a way to end the conflict once and for all: find the Firebird, a mythical entity believed to possess power the likes of which the world has never seen. It will be no easy task, though if life as a thief has taught Echo anything, it's how to hunt down what she wants . . . and how to take it.
But some jobs aren't as straightforward as they seem. And this one might just set the world on fire.
---
Find it on…
Goodreads ○ Amazon ○ Barnes & Noble
---