This Shattered World, by Amie Kaufman and Meagan Spooner
4 Stars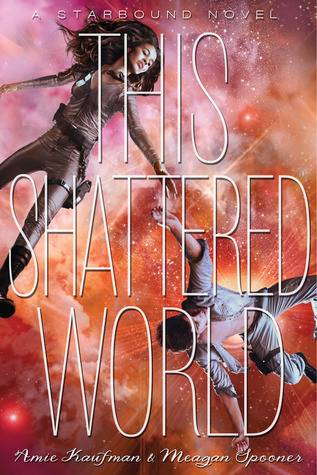 The second installment in the epic Starbound trilogy introduces a new pair of star-crossed lovers on two sides of a bloody war.
Jubilee Chase and Flynn Cormac should never have met.
Lee is captain of the forces sent to Avon to crush the terraformed planet's rebellious colonists, but she has her own reasons for hating the insurgents.
Rebellion is in Flynn's blood. Terraforming corporations make their fortune by recruiting colonists to make the inhospitable planets livable, with the promise of a better life for their children. But they never fulfilled their promise on Avon, and decades later, Flynn is leading the rebellion.
Desperate for any advantage in a bloody and unrelentingly war, Flynn does the only thing that makes sense when he and Lee cross paths: he returns to base with her as prisoner. But as his fellow rebels prepare to execute this tough-talking girl with nerves of steel, Flynn makes another choice that will change him forever. He and Lee escape the rebel base together, caught between two sides of a senseless war.
---
Find it on…  Goodreads  ○  Amazon  ○  Barnes & Noble
---
My Review
I can't decide which cover is better: This Shattered World or These Broken Stars??? They're so LOVELY and they also match!
Ok. I need to stop getting so distracted by the covers. Back to business. I really liked the first book in this series, and sadly, it gave me high expectations of this book. These Broken Stars was a wonderful sequel, but it was not that spectacular.
The over-arching plotline of the series about the whispers and LaRoux Industries did progress more in this book than it did in the last. However, I feel like it didn't progress enough, especially considering the fact that this is the second book. As readers, we find out that the planet that Lilac and Tarver crashed on was not the only planet on which there were whispers… This book opened many pathways which the plot could go down.
Kaufman and Spooner did a good job with the characters. In this book, Lee and Flynn are on different sides, and of course, each side has made assumptions about the other. Lee in particular is believed to have a shockingly ruthless nature (an outer façade that she has for a convincing reason). As the plot thickens, the authors slowly strip away the façade, which showed that Lee still has a round personality underneath.
I know some of what they say about her is true. Deadly, certainly. Made of steel, probably. But inhuman?
Jubilee is also a strong heroine that can make her own way in the world. I really liked her character because of that.
"You're not the only one who's lost someone," she replies, voice sharpening. "I'll choose my own risks, Flynn."
Since each book in this series is essentially a love story, I'm sure that it's not hard to predict who the lovers are in this story. Being on different sides of a war, Jubilee and Flynn don't like each other at first. I was reading with relief when I saw that this wasn't a love at first sight romance. Phew! That would've been so unrealistic. Kaufman and Spooner do show the development of their relationship, and how their love came to be. What I liked about this romance is that it doesn't seem like a product of the circumstances. If Jubilee and Flynn weren't on opposite sides of a war, I think that a love would still blossom between them.
Lilac and Tarver had a cameo!!! Even though they weren't the main focus, their sweet relationship is still effectively conveyed.
Merendsen glances over his shoulder, but his camera shows me only darkness beyond him. "Go back to sleep, Lilac." Despite the brusque words, there's a tenderness in his voice that, strangely, makes my heart constrict.
This was a great book, and I recommend it if you liked the first book. I might check out the next one in this series!
---