Murder on the Orient Express, by Agatha Christie
4 Stars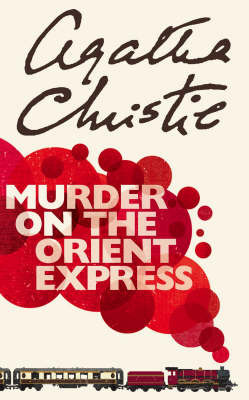 ---
Murder on the Orient Express is mainly composed of a complex, wonderful, and unexpected mystery. I've never read any of Agatha Christie's books before, but I had heard many good things about her mysteries. I'm really glad I decided to pick this up. Even though this book isn't the first of its series, it didn't hinder my ability to understand the book which is great because not many series are like this.
Since Murder on the Orient Express isn't the first book in the Hercule Poirot Detective Series, Hercule Poirot isn't formally introduced. However, Christie did drop some hints about Hercule Poirot's appearance (e.g. his green eyes, his egg shaped head, his moustache… etc.), and his personality. I was glad for these brief but helpful descriptions as it helped me to visualize the complicated events that occur in the book.
Actually, scratch that. Complicated is an understatement. The plot was intricate and convoluted. It tricks you by pulling wool over your eyes. Throughout the book, a lot of information and evidence is more or less presented to you on a platter. The key is to sift through all that information to find the significant and relevant information. When I read less well-written mysteries, it is easy for me to pick out the needed information and predict the outcome, but this book is not like that. What I loved about this book is how it deceived me into seeing the importance of a less significant, a less relevant piece of evidence which caused me to disregard the key information needed to unravel the mystery.
For example, I thought that the Daisy Armstrong Case was not significant. Oh how wrong I was.
Before Hercule Poirot revealed the murderer(s), I did figure out some of the people who lied when giving their statements. But, I admit, I couldn't figure out how the rest of the evidence fit in with the theory I had in my head at the time. Most of the murder plot was still shrouded by mystery. The book did get a little confusing at times. When the mystery was resolved, and the murderer(s) revealed, I was honestly surprised. It was explained in a logical way that cleared any confusions I had in the past. I could tell that Murder on the Orient Express was well-planned and that Christie paid an enormous amount of attention to the small details of the murder and the book in general.
There were diagrams and lists in the book that I found very useful. It helped me to think of all the different possibilities there were.
Here is an image of one of the Orient Express' dining car:
So elaborate, right?
I also found some bits of the story humorous, especially where M. Bouc and M. Poirot were concerned. The hassle over Hercule Poirot's inability to get a first class compartment was a little amusing.
This book was great and I recommend it! I'm going to check out some of Christie's other books.
---
Find it on…
---