Mayhem, by Jamie Shaw
4.5 Stars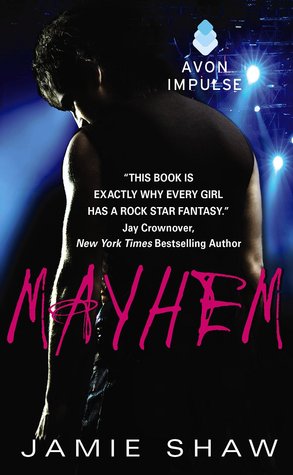 ---
"Her name's Rowan, but I call her Peach, and this morning she broke my heart."
This was such a cute story.
Although Mayhem was extremely cute, it was also pretty cliché- but it wasn't the I-want-to-rip-my-hair-out-ughh type of cliché, it was the good cliché. Since I had seen this kind of premise before, I was interested to see Shaw's take on it. As soon as I started reading this book, I was hooked.
The plot line was definitely a clichéd one. Basically, Rowan meets the lead singer of a band called "The Last Ones to Know" who is called Adam. They have this really hot make out session, and Rowan leaves without telling Adam her name… or anything about herself. Once I read this part, I already knew that Rowan was going to run into Adam sometime later, or else this book wouldn't have a plot line (this is confirmed by the blurb). Of course, Rowan is somehow going to be special and different to all those skanks who drape themselves over Adam… I'm pretty sure you can figure out what is going to come next.
Near the end of the book, I could already predict what was going to happen. It did end the way I predicted it would. The ending was incredibly sweet, and I didn't really mind the predictability of it because of this. There were not many significant twists in the book.
However, I found the characters very endearing, and I quite liked them. The personalities of the various characters were quite different. They each had their quirks and their flaws which made them round characters. I loved reading about their interactions- those moments were the best. At moments, it had me laughing out loud. I also loved the friendship between Rowan and Dee.
I especially loved the interactions between Rowan and Adam.
This is one cute story that I'm glad I read.
---
Find it on…
---