Confess, by Colleen Hoover
4.5 Stars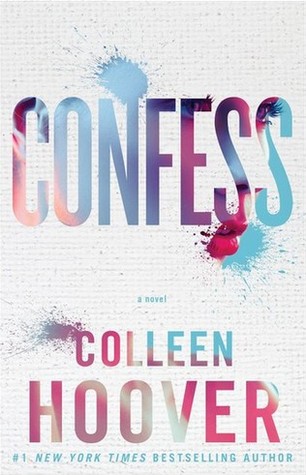 ---
Confess by Colleen Hoover punches you right in the feels. I'm nOt jOkING hERE!!!
What I loved about this book, is that it doesn't reveal all those teeny, tiny, but important bits of information from the very start. This left me thinking that I had the whole picture, when in actual fact, I didn't. When those bits of information were revealed, everything just clicked, and I'm sure you can imagine that I was very surprised:
Did  you guys get that reference? 😉
As always, Ms Hoover weaves a very intimate atmosphere, setting, and characters with her words. This convincing atmosphere, setting and characters are what really makes her novels so realistic, so relatable. The situation that Owen was in, and the reason for his "crimes" were completely believable. Auburn's situation with her deceased boyfriend's mother and brother are quite believable too. What I found less believable about Auburn's situation than Owen's situation was that Auburn is short on money. Her lack of cash is generally hinted, as Auburn mentions- several times- that she has many jobs and does not even have enough money to pay for her potential lawyer. I don't think those money related hardships that Auburn faced were elaborated upon enough. When I was reading Confess, it looked as if Auburn had a lot of time to spare, and enough money that it wasn't much of a concern throughout the rest of the book (it was hardly spoken about).
Trey is what people often refer to as "bad apples". Red and shiny on the outside, but rotten on the inside. His being a cop gave him much more credibility than other characters in the book, and helps to get people on his side, even if his side is the unjust one. In the book, a bad event happens, where Trey does something to Owen (see here, I'm trying not to spoil the book). Us readers, and the present witnesses at the scene will know how unfair, untrue, and unjust Trey's story is, but who is going to believe the true side (i.e. Owen's side) of the story? The jury and judge weren't there, how could they know that the creditable Trey is actually telling false lies? And I think Ms Hoover's ability to convey the helplessness felt by the less creditable characters in that horrible circumstance is simple spectacular.
On the topic of characters…
Can we just talk about Owen Mason Gentry?
As a person with such a tragic past, Owen is a surprisingly gallant gentlemen when interacting with Auburn. He's not like those arrogant, I-secretly-like-you-but-I'm-going-to-pretend-I-hate-you-for-a-flimsy-reason kind of love interest that are seen so often in books nowadays. Since Confess switches back and forth between the perspectives of Auburn and Owen, I could really follow his path of logic, and understand his personality. More importantly, his interesting choices and actions are what really what set him apart from those cliché stereotypes. On top of that, he is seriously HOT 😉
The relationship between Auburn and Owen is simply heartbreaking. They have this connection, this bond which is so beautifully described by Ms. Hoover.
Notice this connection between them?
"He must be having the same internal struggle, because we both stopped walking as soon as we laid eyes on one another. Neither of us is speaking. Neither of us is retreating.

We're both just staring."
The book also had illustrations of Owen's paintings, which were "incredible" if I may say so myself. I love the idea of anonymous confessions. The confessions were really golden nuggets, and some of these golden nuggets really struck at my heart. Check out this golden nugget:
"I'll love you forever, even when I can't"
The only thing I'd say was a bit sad, was that the book was too short!!!!!!! There were a number of things that I think would've been elaborated upon, but was not, due to the short length of the book. Confess was a wonderful wonderful read. I really do recommend you go try this book out, as it was a wonderful take on… Love.
---
Find it on…
---