The Kiss of Deception, by Mary E. Pearson
      4 Stars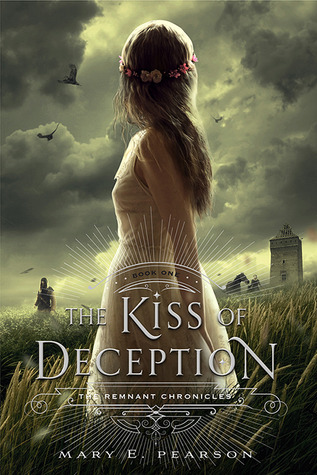 ---
This was the first book I read that was written by Mary E. Pearson, and I was extremely impressed. I loved the world building. I loved learning about the different people, traditions, customs etc. that belonged to each unique country. I thought that Mary E. Pearson showed these traditions etc. through her descriptions really well. Her writing was exquisite and it was one of the many reasons I enjoyed this book.
Anyway, one of the main reasons why I liked this book so much was because the Lia, the main character was badass (strong heroine). Nowadays, it's hard for me to find books that have such a strong female character. I thought it was fun and refreshing to be able to read about a new character who was able to survive and hold her own in almost everything. That was simply great!
In my opinion, the first half of the book was not as good as the second half. The first half of the book focused more on Kadan and Rafe and the kind-of-love-triangle that was created really didn't capture my interests. I'm more of the impatient person who yells at the main character to choose a person, so the kind-of-love-triangle frustrated me a LOT. Also, I didn't think there was enough action (I mean, COME ON something weird and/ or exciting has to happen!). Sure I mean, she is settling in her "new" life at the inn, but I felt that it needed something even more than the romance, the "settling in" that was there.
The second half of the book was my favourite part. I could really see the character development within the main character. She also had a chance to develop her gift. In the book, the author states the reason why Lia didn't know about her powers, but the author never elaborates on that reason. I loved the part with the vegabond tribe- it showed yet another aspect of this world (and as you know, I love skilled world building so yep…). AND… the ending was literally a punch in the face. It left me hanging. Most importantly, it made me want to read more, and since this is the first book out…. and the next book doesn't come out until a while after, my hope was shattered.
I really hope the next book comes out soon *cries*.
The Kiss of Deception is an absolutely superb book, so you should definitely check it out 🙂
---
Find it on
---